Seorang nabi

dari tengah-tengahmu, dari antara saudara-saudaramu,

sama seperti aku [Musa]

, akan

dibangkitkan bagimu oleh TUHAN

, Allahmu;

dialah yang harus kamu dengarkan

. (Deu 18:15 )


Bukankah telah dikatakan Musa:

Tuhan Allah akan membangkitkan

bagimu

seorang nabi

dari antara saudara-saudaramu,

sama seperti aku

[Musa]:

Dengarkanlah dia

dalam segala sesuatu yang akan dikatakannya kepadamu. (Act 3:22 )


Musa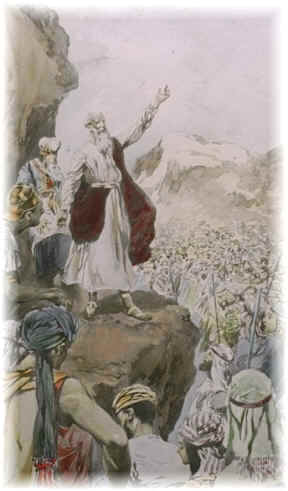 1. Nama Musa (Mose) diberikan sama seperti
nama bapa
yang memper-
anak
-kannya
Ketika anak itu telah besar, dibawanyalah kepada puteri Firaun, yang mengangkatnya menjadi anaknya, dan menamainya Musa, sebab katanya: "Karena aku telah menariknya dari air." (
Exo 2:10 )

Sipakah Puteri Firaun itu?
Berdasar Flavius Jospehpus - ia adalah Thermutuhis
"7. Thermuthis therefore perceiving him to be so remarkable a child, adopted him for her son, having no child of her own.

And when one time had carried Moses to her father, she showed him to him, and said she thought to make him her successor

, if it should please God she should have no legitimate child of her own; and to him, "I have brought up a child who is of a divine form, (21) and of a generous mind; and as I have received him from the bounty of the river, in , I thought proper to adopt him my son, and the heir of thy kingdom."
(

Flavius Jospehpus :
Antiquities of the Jews, Book II, Chapter 8, Paragraph 7
)
Thermuthis adalah puteri Firaun Thutmose II
"Thermuthis
(Thutmose II, married his half-sister,
Hatshepsut
) the king's daughter saw the child in the cradle, who brought a Hebrew woman to nurse the infant. She named him
Mouses
which
Mo
means 'water or river' and
Uses
means 'saved out of.' "
(sumber)


Thutmose II menikah dengan saudari tirinya nya Ratu
Hatshepsut :


"According to history, Pharaoh Thutmose and his wife Queen Ahmose had two daughters, Neferubity, of whom little is known, and

Hatshepsut

who later became Queen and bore the title 'King's daughter'. Hatshepsut married her stepbrother Thutmose II as arranged by her father.
After her father's death, her husband Thutmose II became pharaoh, but Hatshepsut was really in power. Queen Thutmose II if you will. She became one of Egypt's greatest rulers. She coreigned with her husband from approximately 1504-1490 B.C."
(sumber)
Thermutuhis membawa anak Amran dan Yokebed yang ditemukannya di Sungai Nil dan membawanya kepada ayahnya : Thutmose ('son of Thot' : mose - son)

"Some modern scholars had suggested that the daughter of the pharaoh might have derived his name from the Egyptian word
moses
, which means "son" or "formed of" or "has provided" " (

sumber

)

Musa berasal dari kata Mose

Mose berasal dari Thutmose

Mose membawa nama bapa yang memper-anak-kanya Thutmose


2. Musa di besarkan di Mesir (Exo 2)

3. Musa lahir saat terjadi pembantaian bayi-bayi Ibrani oleh penguasa (Exo 1)

4. Musa membawa bangsa Israel keluar dari tanah perbudakan - Mesir (Exo 12:51)

5. Sebelum memulai pelayanan hukum nya, Musa berpuasa 40 hari 40 malam (Exo 34:28 )

6. Musa membawa sepuluh perintah Tuhan dalam dua loh batu (Exo 34:28 )

7. Musa meninggikan ular tembaga -

binatang terkutuk

- agar umat Israel hidup (Num 21:9 )

8. Musa membangun Kemah Suci (Exo 25:40)

9. 'Musa memberi' manna (Exo 16:31)

10. 'Musa memberi minum' dari batu karang (Num 20:10)

11. Musa melakukan banyak mujizat

12. Musa menyembelih domba Paskah dan menyediakan roti tak beragi

13. and so on




Yesus




1. Nama Sang Putera diberikan sama seperti nama
Sang Bapa yang
telah memper-Anak-kanNya

Aku mau menceritakan tentang ketetapan TUHAN; Ia berkata kepadaku: "Anak-Ku engkau!

Engkau telah Kuperanakkan pada hari ini.

(
Psa 2:7 - ITB)

Sebab

seorang anak telah lahir

untuk kita,

seorang putera telah diberikan

untuk kita; lambang pemerintahan ada di atas bahunya, dan namanya disebutkan orang: Penasihat Ajaib, Allah yang Perkasa, Bapa yang Kekal, Raja Damai. (
Isa 9:6 (9-5) - ITB)

"Ia akan melahirkan anak laki-laki dan engkau akan menamakan Dia

Yesus

, karena Dialah yang akan menyelamatkan umat-Nya dari dosa mereka." (
Mat 1:21 - ITB )

And she shall bear BEN (Son) and you will call SHMO (his name, Zech 6:12)

YEHOSHUA

(Zech 6:11-12) because he will bring his people yeshuah (rescue, salvation, deliverance) from their peyshaim (rebellions).(
Mat 1:21 - OJBC)

TALD DYN BRA WTQRA $MH

Y$WE HW

GYR NXYWHY LEMH MN XJHYHWN ;(
Mat 1:21 - Peshita)

Nama Sang Bapa adalah YHWH

Nama Sang Putera adalah YHWH Shua - Tuhan yang menyelamatkan


2. Yesus sempat dibesarkan di Mesir (Mat 2:14 )


3. Yesus lahir saat terjadi pembantaian bayi-bayi Ibrani oleh penguasa (Mat 2:16)

4. Yesus membawa bangsa 'Israel' keluar dari tanah perbudakan - Dosa (Mat 1:21)

5. Sebelum memulai pelayanan hukum nya, Yesus berpuasa 40 hari 40 malam (Mat 4:2 )

6. Yesus membawa sepuluh perintah Tuhan dalam 'dua loh batu' (Mat 22:37-40 )

7. Yesus ditinggikan disalib -

orang terkutuk

- agar umat 'Israel' hidup (Gal 3:13 )

8. Yesus membangun Kemah Suci (Joh 2:19)

9. 'Yesus memberi' manna (Joh 6:51)

10. Yesus memberi minum dari batu karang (1Co 10:4)

11. Yesus melakukan jauh lebih banyak mujizat

12. Yesus disembelih sebagai domba Paskah untuk menjadi roti dan anggur (darah)

13. and so on
with warm regards