"It is true that Cicero would have used
agendum
to refer to a single item of business before the Roman Senate, with
agenda
as its plural. But in Modern English a phrase such as
item on the agenda
expresses the sense of
agendum,
and
agenda
is used as a singular noun to denote the set or list of such items, as in
The agenda for the meeting has not yet been set.
If a plural of
agenda
is required, the form should be
agendas: The agendas of both meetings are exceptionally varied "
Agenda
noun
An organized list, as of procedures, activities, or events:
calendar
,
docket
,
lineup
, order of the day (often used in plural),
program
,
schedule
,
timetable
.
Disadari atau tidak, masing-masing dari kita memiliki sebuah agenda.
Satu hal yang membedakan adalah : terencana atau terorganisir dengan baik atau tidak.

Perencanaan (pemikiran) sebuah kerja atau proyek adalah salah satu faktor yang sangat menentukan nilai akhir atau hasil atas sasaran (target) yang hendak dicapai.


...smart genius Homer Simpson take an action : thinking , make some plans...
...he utilize, optimize his brain capacity...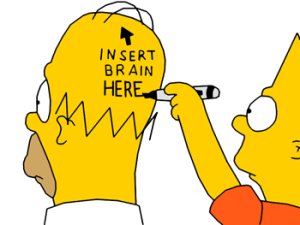 ...he seeks, knocks and asks support wherever he could ...
...in order to achieve his target...
Homer could...don't we?



...the human brain's 100 billion neurons, then one neuron is worth about 1/1,000 MIPS, i.e., 1,000 instructions per second...



Otak manusia terdiri dari 100 milyar sel saraf - neuron, satu neuron setara dengan seper seribu MIPS, i.e 1000 instruksi per detik



"MIPS and Megabytes.

to mimic their behavior. Note the scale. Entities rated by the computational power and memory of the smallest universal computer needed is logarithmic on both axes: each vertical division represents a thousandfold increase in processing power, and each horizontal division a thousandfold increase in memory size. Universal computers can imitate other entities at their location in the diagram, but the more specialized entities cannot. A 100-million-MIPS computer may be programmed not only to think like a human, but also to imitate other similarly-sized computers. But humans cannot imitate 100-million-MIPS computers--our general-purpose calculation ability is under a millionth of a MIPS. Deep Blue's special-purpose chess chips process moves like a 3-million-MIPS computer, but its general-purpose power is only a thousand MIPS. Most of the non-computer entities in the diagram can't function in a general-purpose way at all. Universality is an almost magical property, but it has costs. A universal machine may use ten or more times the resources of one specialized for a task. But if the task should change, as it usually does in research, the universal machine can be reprogrammed, while the specialized machine must be replaced."



Sumbu vertikal X menandakan kemampuan komputasi (perhitungan) dan sumbu horizontal Y menandakan kemampuan daya tampung ingatan (memory)

"The 1,500 cubic centimeter human brain is about 100,000 times as large as the retina, suggesting that matching overall human behavior will take about 100 million MIPS of computer power. Computer chess bolsters this yardstick. Deep Blue, the chess machine that bested world chess champion Garry Kasparov in 1997, used specialized chips to process chess moves at a the speed equivalent to a 3 million MIPS universal computer (see Figure 3-4). This is 1/30 of the estimate for total human performance. Since it is plausible that Kasparov, probably the best human player ever, can apply his brainpower to the strange problems of chess with an efficiency of 1/30, Deep Blue's near parity with Kasparov's chess skill supports the retina-based extrapolation. "
Kapasitas komputasi otak manusia 33,33 kali lebih kuat dari pada kemampuan kompter
Deep Blue
yang hanya memiliki kapasitas 3 MIPS
Semasa eSeMA dulu, sewaktu pelajaran biology, temen saya mengeluh kepada guru nya...
"
Pak, mengapa ya manusia itu banyak masalah?
" tanya teman saya
Sang guru tersenyum dan menjawab
"Karena manusia di beri otak"

"Otak itu terdiri dari milyaran sel-sel saraf - neuron"

"Coba kalau sel-sel tadi tidak dipakai untuk berpikir dan memikirkan suatu permasalahan untuk dipecahkan, pasti sel-sel saraf neuron tadi akan mati"

"Jadi kesimpulannya, manusia itu diberi otak agar mau berpikir..."
jawabnya
Ya, kita diberi otak (pikiran -
mind
), memang harus dipakai untuk berpikir - perencanaan kerja- pemecahan masalah
Terkadang kita lebih banyak 'mendinginkan' pikiran dari pada 'memanaskan' pikiran.
Kita lebih bersikap santai, asal jalan,
alon-alon waton klakon,
atau malah membiarkan orang lain yang berpikir atas permasalahan-permasalahan yang kita hadapi.
Misal :
Masa sekolah atau kuliah,
kita sering nyontek hasil kerja teman-teman kita

Pe eR dikerjakan oleh kakak, adik, pacar, orang tua, pembantu ...
Tidak bisa demikian ...
Harus ada perubahan paradigma berpikir
Gambar diatas dapat dijadikan sebagai salah satu media untuk menunjukkan adanya perubahan (
shifting
) paradigma (
paradigm)
berpikir.
Bila Anda mengerti, maka Anda akan menemukan 2 buah gambar wajah yang berbeda
Dalam bukunya
Covey menulis demikian

"Although Habit 2 applies to many different circumstances and levels of life, the most fundamental
THE SEVEN HABITS OF HIGHLY EFFECTIVE PEOPLE

Brought to you by FlyHeart application of "

Begin with the End in Mind

" is to begin today with the image, picture, or paradigm of the end of your life as your frame of reference or the criterion by which everything else is examined."

from Habit 2: Begin with the End in Mind (Stephen Covey )






Covey bukanlah yang pertama ...





750 years before Christ ...



Tuhan berfirman melalui hambanya : nabi Yesaya



Declaring the end from the beginning

, and from ancient times the things that are not yet done, saying, My counsel shall stand, and I will do all my pleasure:(
Isa 46:10 )



I have declared the former things from the beginning

; and they went forth out of my mouth, and I shewed them; I did them suddenly, and they came to pass.(
Isa 48:3 )

Tuhan telah menyatakan akhir segala hal di awal mula
Bukan kah itu deklarasi dari sebuah agenda?
Tuhan memiliki rencana
Tuhan memiliki rancangan
Tuhan itu tertib dan teratur
Dia menghendaki ketertiban dan keteraturan dalam hidup kita pula
(

Col_2:5; 1Th_5:14; 2Th_3:11; 1Ti_1:4; Tit_1:6; Tit_1:10)

Bahkan Tuhan Yesus sendiri mengingatkan demikian
Sebab siapakah di antara kamu yang kalau mau mendirikan sebuah menara tidak duduk dahulu

membuat anggaran

biayanya, kalau-kalau cukup uangnya untuk menyelesaikan pekerjaan itu? (
Luk 14:28 )






with warm regards